$237,170 given away so far!
Our Partner Organizations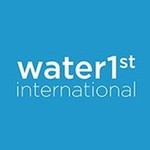 "Addressing the water and sanitation needs of the world's poorest is the one activity that, when done properly, generates benefits that can lift a community out of extreme poverty. There is no exaggeration in the statement: supporting and implementing water and sanitation projects properly is the best investment and best hope for the world's poorest." — Water1st International
Other Grantees include: M25, Pure Water for Life, Gravity Water, Water Wells for Africa, Water Charity, Thirst Project, Generosity.org, A Drop in the Bucket, Give Clean Water, World Thirst, Agua para la Vida, Love Manifest, Etta Projects, Water Access Now, and Water for Life and Livelihood.
Granted to Water1st International: $182,690
Granted to other organizations: $54,480